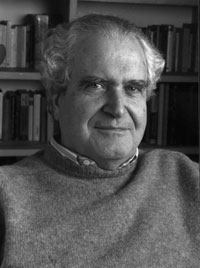 22.04.2005

Life

-

Dr Roberto Torretti received an honorary doctorate from the UAB on 28 April. Dr Torretti is a professor emeritus in Philosphy at the University of Puerto Rico and a retired full professor of Philosophy at the University of Chile, specialising in Philosophy of Physics. He gave a lecture entitled Conocimiento discursive (Discursive Thought). The doctorate was presented by Xavier Roqué, a professor for the Department of Philosophy and the director of the UAB's Centre for History of Science Studies, and Carl Hoefer, a research professor for the UAB's Department of Philosophy who is affiliated to the Catalan Institute for Research and Advanced Studies (ICREA).
Roberto Torretti was born in Santiago, Chile in 1930. He previously lectured in Chile and is now a full member of the International Institute of Philosophy in Paris. He is the author of a number of writings on Philosophy and Science. In his very first book, Manuel Kant: estudio sobre los fundamentos de la filosofía crítica (Manuel Kant. A Study on the Foundations of Critical Philosophy) he began to contribute new methodologies to his field. He continued this through his other works, including Pensar la ciencia (Thinking Science), Philosophy of Geometry from Rieman to Poincaré and The Philosophy of Physics. He has also published a number of books and articles that strongly influenced the field of History of Philosophy, Mathematics and Physics.
In the 1980s, Dr Torretti was elected as a visiting fellow in the University of Pittsburgh's Center for Philosophy of Science, the most renowned research centre of its kind in the world. It is there that he strengthened ties with other important creators of modern history/philosophy of relativity.
Dr Torretti is famous for his persistence in linking the philosophy of physics and the history of physics. In 1983, he published a unique, innovative book, Relativity and Geometry, in which he not only looks at the historic aspects of the theories of relativity but also analyses and explains these theories with great clarity.
Roberto Torreti has always been motivated by the same mindset as the philosopher Immanuel Kant, who, more than anything else, wanted to be a philosopher of nature.