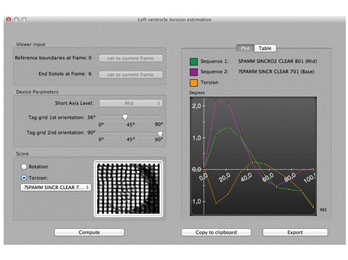 18.04.2012

Research

-

The software was created in collaboration with Hospital Sant Pau and aids in an early detection of cardiotoxicity in patients undergoing chemotherapy.

The Computer Vision Centre (CVC) at Universitat AutÚnoma de Barcelona (UAB), in collaboration with the Cardiac Imaging Unit of the Cardiology Service at Hospital Sant Pau, has developed a software which for the first time calculates the value of myocardial torsion through the analysis of tagged cardiovascular magnetic resonance images (myocardial tagging) in a simple way that is useful for doctors. Myocardial torsion is the result of the relation between the function and anatomy of the heart and is an indicator of global myocardial function, very valuable in the early detection of ventricular dysfunction.

The program was developed under the framework of the Myocardia Project. Led by Dr Debora Gil of the CVC group Interactive and Augmented Modelling (IAM) and Dr Francesc Carreras of the Hospital Sant Pau, the software models and assesses the heart's electromechanical function with the aim of gaining more in-depth knowledge of cardiac mechanics in normal and diseased hearts. The software can be used with the free access platform OsiriX. Especially important in this case is that the software was created by clinical specialists for the clinical sector, which guarantees on site use of the tool by doctors within the hospital's own image laboratory. A prototype of the program has been used since September 2011 at the Cardiac Imaging Unit of the Hospital Sant Pau.

Recently the hospital passed a protocol to use this software prospectively on patients undergoing potentially cardiotoxic chemotherapy, with the aim of detecting as soon as possible any ventricular myocardial dysfunctions. The program used at Hospital Sant Pau will aid doctors by offering new and useful parameters of ventricular function for the monitoring and early detection of cardiotoxicity in patients undergoing chemotherapy.